How Nonsurgical Face-Lifts Work With PDO Threads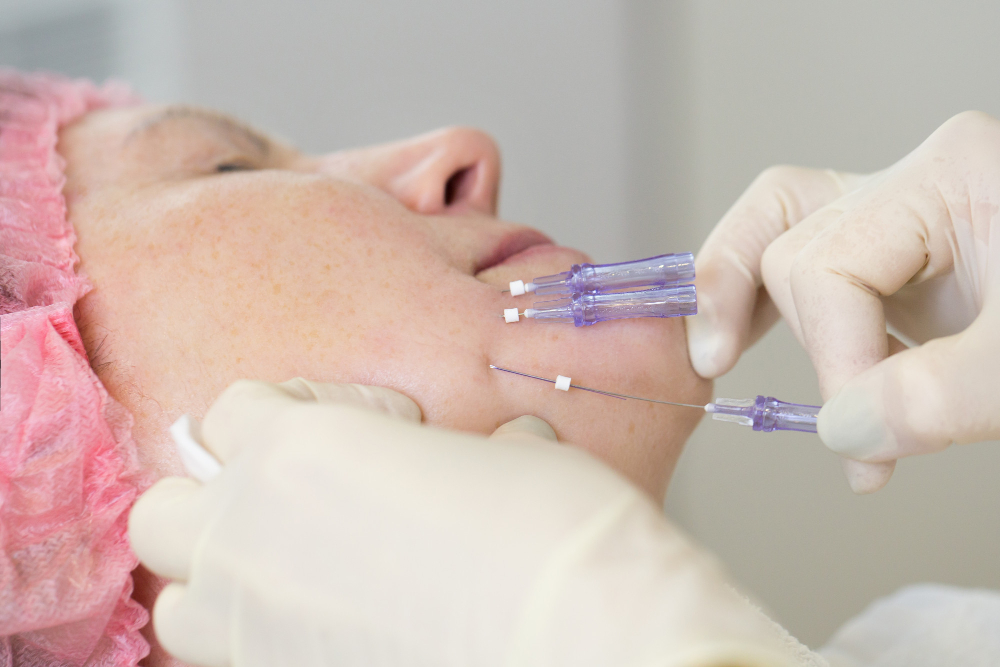 As we age, our skin loses elasticity, and wrinkles and fine lines start showing up on our face, making us look older than our age. Many people consider getting facelift surgery to fix their sagging skin, but it is an invasive procedure that involves anesthesia, incisions, and prolonged recovery. Fortunately, there is a nonsurgical alternative to facelift surgery called PDO thread lift that uses polydioxanone (PDO) threads to lift and tighten sagging skin without surgery and minimal downtime.
In this blog post, we will discuss how nonsurgical facelifts work with PDO threads and their benefits over traditional facelift surgery.
PDO threads are medical-grade sutures made of a biodegradable polymer that stimulates collagen production and skin tightening. PDO threads come in various types and lengths, depending on the area you want to treat, such as the forehead, cheeks, jowls, neck, and nose. PDO threads work by creating a supportive structure under the skin that lifts and tightens the skin while also promoting collagen production, which can improve the texture and tone of your skin.
The PDO thread lift procedure is minimally invasive and can be done in under an hour. During the procedure, your aesthetician will insert the PDO threads under your skin using a fine needle. Once the threads are in place, they are gently pulled, creating a lifting effect that tightens the skin. The threads are then trimmed, and the procedure is complete. You can see the results immediately, but you will notice continuous improvement over the next few months, as your skin produces more collagen.
One of the benefits of PDO thread lifts over facelift surgery is that there is minimal downtime. You can resume your daily activities right after the procedure, and the recovery period is short. You may experience mild swelling, bruising, and soreness, but these side effects usually go away within a week. Unlike surgery, PDO thread lifts do not require anesthesia, incisions, or sutures, which reduces your risk of complications and scarring.
PDO thread lifts are also more affordable than facelift surgery, making them accessible to more people. While the cost of a traditional facelift surgery varies widely, depending on several factors such as surgeon fees, facility fees, anesthesia, and postoperative care, the cost of a PDO thread lift is more predictable. PDO thread lifts are typically priced based on the number of threads used and the area treated, and most providers offer financing options to fit your budget.
Conclusion
PDO thread lifts are a safe, effective, and affordable alternative to facelift surgery that can help you achieve a more youthful and vibrant appearance. PDO threads work by lifting and tightening sagging skin while also stimulating collagen production, resulting in improved texture and tone. The procedure is minimally invasive and has virtually no downtime, making it a convenient option for busy individuals who do not want to take time off work or away from their daily activities. If you are considering a PDO thread lift in Windermere, FL, contact Vamped Aesthetics & Design, and our experienced and certified aestheticians will be happy to discuss your options and help you achieve the best results.